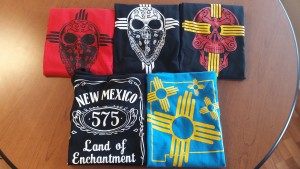 Just a little over a week since we launched our store and our first orders are being sent out. These shirts are coming hot off the press, orders are being packaged and will ship out this afternoon.
If you're in need of a truly unique gift for someone special this holiday season; you still have time! Browse through our selection of Shirts, Decals, License Plates, Koozies, and flags. Get your holiday shopping done from the comfort of your home, office or wherever you browse the internet.
Pictured here are the Ride or Muertos, New Mexico 575 Label, Flock of ZIAs and Dia de los ZIA shirts.
Be sure to follow and like us on Facebook, Twitter & Instagram at of course here on our website to get fresh updates of what's going on at ZiaGifts.com.